Customs Union Certificate of Conformity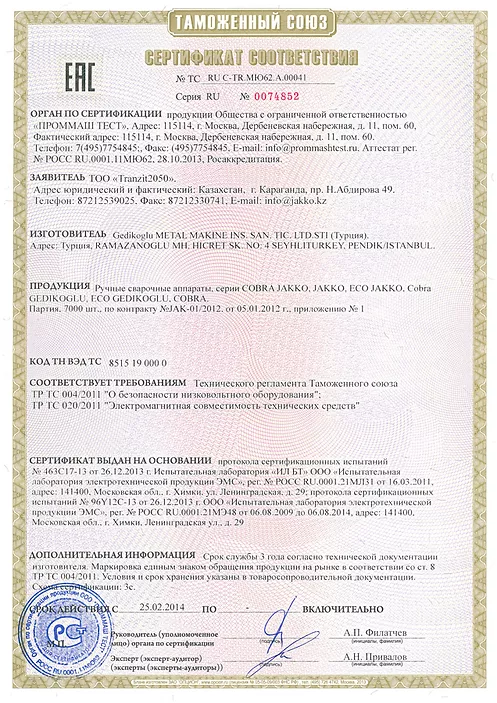 The certificate of conformity issued by the Customs Union or otherwise called "EAC certificate" refers to an official document verifying the top quality level of produced or manufactured products, as well as full compliance of all its features and properties with the approved and applicable requirements and regulations of the national standards. The laboratory tests and expert evaluations of goods are carried out prior to the issuance of the certificate.
An agreement has been negotiated between the member countries to create a common trade area. Under the agreement, there is a unified rule for the legitimate turnover of goods. In this regard, there is also a Unified Commission of the Customs Union, whose primary objectives include the adoption of all normative and legal documents in the field of technical regulation. The creation of such a territory implies the reduction of producer costs and the expediting of trade within these countries.
The organization elaborates and adopts the Unified list of products, requiring mandatory safety and quality assessment and EAC certification https://mastcert.com/tr-cu-certification/ prior to their release into circulation on the unified consumer market of member states of the Customs Union. It is necessary to obtain a certificate of conformity from the Customs Union for all categories of items specified in this document.
Some of them are:
fuel;
machinery and equipment, involving gas appliances, etc.;
child products and toys;
all kinds of packaging materials and supplies;
personal protection goods;
perfume and cosmetics;
elevators;
low-voltage equipment.
All of these items, based on their purpose and category, require certificates of conformity.
Procedure for acquiring an EAC certificate:
applying for a certificate;
provision of the appropriate batch of supporting documents;
taking samples of particular products and their further identification;
carrying out certification tests of the selected samples;
drawing up protocols based on the results of examinations and tests;
issuance of certificates.
The certificate issuance may be carried out on the basis of a few general schemes, which depend on the quantity of imported or produced merchandise. All trials are undertaken exclusively at a special testing center.
The certification body examines all the supporting evidence submitted by the testing laboratory or the applicant and decides whether or not to issue a certificate of conformity. The primary role of the certification body also encompasses carrying out additional inspections, if this is provided for in the certification scheme