GOST R Certificate of Conformity
GOST R Certificate confirms compliance of goods to the local Russian standards
NEED HELP WITH CERTIFICATION?
GOST R Certificate of Conformity
The GOST R certificate of conformity is compulsorily required in two cases:
For the import of imported products into the territory of Russia. It will not be possible to pass customs control without certification;
For the further sale of goods. Only products with documented quality can be put on sale.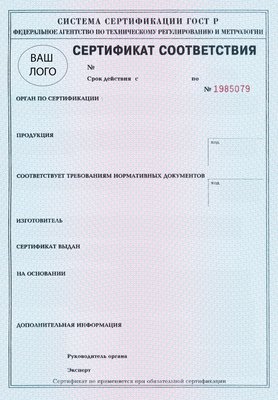 GOST R certification applies to a variety of electrical equipment, machine tools, instruments, glass, weapons, pumps for nuclear power plants and other goods. If your product is not in the list of goods for mandatory certification according to Resolution of the Government of the Russian Federation No. 982 dated 01.12.2009, then its registration can be carried out on a voluntary basis. This will allow you to distinguish your product from the competitors, show its advantages and demonstrate compliance with a number of quality requirements.
Do you need a certificate for exports of goods to Russia?
You can carry out certification for batch and serial goods, we have wide scope of the material and technical resources and conditions for performing tests according to any of the schemes provided by the regulations. Certification in accordance with GOST can only be carried out by an accredited body that has the authority for this, and test reports are published in the state register and are freely available for verification. By entrusting this task to the MASTCERT team, you do not risk the validity of the received document and solve your request at a fair cost. We have been engaged in GOST R certification for more than 9 years, we have our own laboratories and qualified personnel for accuracy and efficiency of obtaining results. Ready to help you.
HAVE A PROJECT?
By clicking Submit, you agree to Fresh Consulting's Privacy Policy.
COMAPANIES WHICH TRUST MASTCERT