Fire Safety Certificate in Russia: Certification Provider Price by MASTCERT
The fire safety certificate is an official document confirming conformity of equipment or products with the specified fire-protection standards
NEED HELP WITH CERTIFICATION?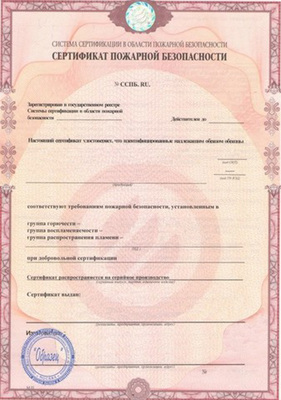 National technical regulations "On fire safety requirements" contain a list of requirements that must the products satisfy. If a product passes inspection the company obtains The Fire Safety Certificate. This is the most common name of the document. It may also be called as a Certificate of conformity to technical regulations of the Russian Federation or a Fire certificate. This document refers to the mandatory certificates.
The National Technical Regulation "On the requirements of fire safety" is the Technical Regulation of the Customs Union 043/2017. Before, certification for fire safety regulations was regulated by Federal Law 123.
Our experts will help you quickly get a Fire Safety Certificate. You provide a minimum package of documents and we proceed to work without prepayment. Over 7 years, 14,000 documents have been issued for 3,500 companies in Russia, Belarus and Kazakhstan.
The list of products subject to mandatory certification
Full list of products which require mandatory fire safety certificate can be found in the special decree of the Government of the Russian Federation No. 241. Listed below are the products that can be found in almost any enterprise.
Means that ensure fire safety. These include fire extinguishers, fire extinguishing compositions, fire trucks, hydrate or fire barrels, special equipment for fire protection, equipment intended for people fire rescue, etc.
Electrical instruments and devices. This category includes electric cables and various devices intended for protection of electrical circuits.
Building products and structures. Fire doors, windows, gates doors, including entrances to elevator shafts. Also, it includes valves, components of ventilation channels of the building systems.
Finishing and construction materials. Waterproofing and roofing materials, PVC products, finishing materials for flooring, walls and ceilings.
How to obtain the Fire Safety Certificate
A special form of confirmation is made in the form of Declaration. It is required for certain types of equipment and goods. This document suggests that the products and tools of your company comply with fire safety. Fire safety certificate is accepted by the applicant.
Registration by a third party, which acts as an accredited certification body is a mandatory step. Only after that the document will come into force. Our certification for many years engaged in the preparation and issuance of such documents so the procedure will be successfully completed.
A list of documents and the period depends on the number of products for which certification is required. Maximum validity period of the certificate is 5 years. If a product is not required to obtain fire certificate, then you can get this document on a voluntary basis. As for the choice – Fire certificate or Declaration, we can make it only after consideration of your case. In any case, both of these documents are valid throughout the Russian Federation.
Price calculation
Certificate of Conformity to Technical Regulations on Fire Safety — from 750 USD
Required documents
Application
Company details
Scanned copies of constituent documents
Technical specifications or product passport
HAVE A PROJECT?
By clicking Submit, you agree to Fresh Consulting's Privacy Policy.