TR CU 011/2011
On the safety of elevator
NEED HELP WITH CERTIFICATION?
Technical Regulation of the Customs Union 011/2011 "On the safety of elevator"
Technical Regulation 011/2011 applies to all elevators and elevator safety devices (buffers, safety devices, speed limiters, mine door locks, hydraulic safety devices).
But this Regulation does not apply to elevators that are intended for use:
• in the mines of the mining and coal industry;
• on ships and other floating equipment;
• on platforms for exploration and offshore drilling;
• on airplanes and aircraft,
including elevators:
• with rack-and- pinion or screw lifting mechanism;
• special purpose for military purposes.
According to the requirements of Regulation 011/2011, confirmation of the safety of elevators and elevator safety devices (Appendix 2 to TR CU 011/2011) occurs in the form of mandatory certification according to one of the schemes – 1C (for serial production) or 3C and 4C (for a batch).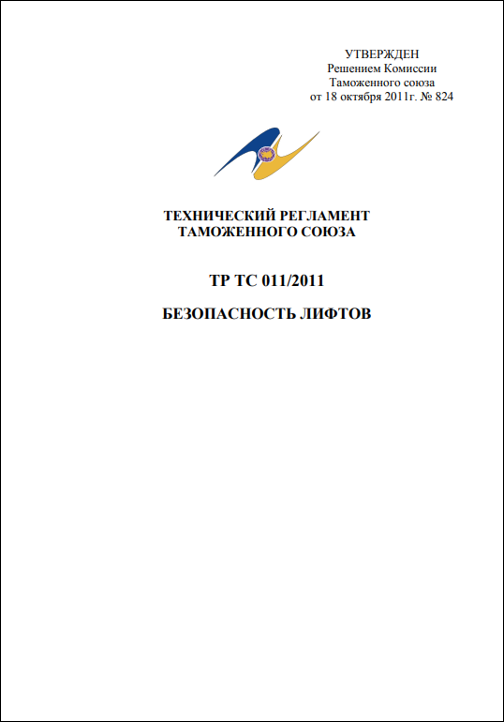 Download "TR CU 011/2011" for free
Read the full English version of TR CU 011/2011 regulation "On the safety of elevator".
Check if your product is subject to certification under this regulation.
If you still have questions you can always rely on MASTCERT.
Download
Documents required for registration of the Certificate TR CU 011/2011:
• Application
• Technical description
• Manual
• Electrical and hydraulic diagrams
• Test reports
The Certificate of Conformity and its annexes must contain information about the manufacturer, type (model) and data on elevator safety assemblies and devices.
The MASTSERT team is ready to help you with the preparation of all the necessary documents to confirm compliance with the requirements of regulation 011/2011 .
HAVE A PROJECT?
By clicking Submit, you agree to Fresh Consulting's Privacy Policy.
COMAPANIES WHICH TRUST MASTCERT