TR CU 033/2013
On the safety of milk and dairy products
NEED HELP WITH CERTIFICATION?
TR CU 033/2013 establishes safety requirements for milk and dairy products that are put into circulation on the territory of the Customs Union.
The effect of the Technical Regulations applies to:
raw milk (skimmed milk, cream);
dairy;
dairy components of the product;
milk -containing products;
milk -containing products with milk fat substitute;
by-products of milk processing;
milk-based baby food;
processes of production, storage, transportation, sale and disposal of milk and dairy products;
components necessary for the production of milk processing products.
TR CU 033/2013 does not apply to:
products made from milk or dairy products for the manufacture of specialized food (except for baby food);
culinary and confectionery products containing milk or dairy products;
milk and dairy products used for personal purposes, not for sale.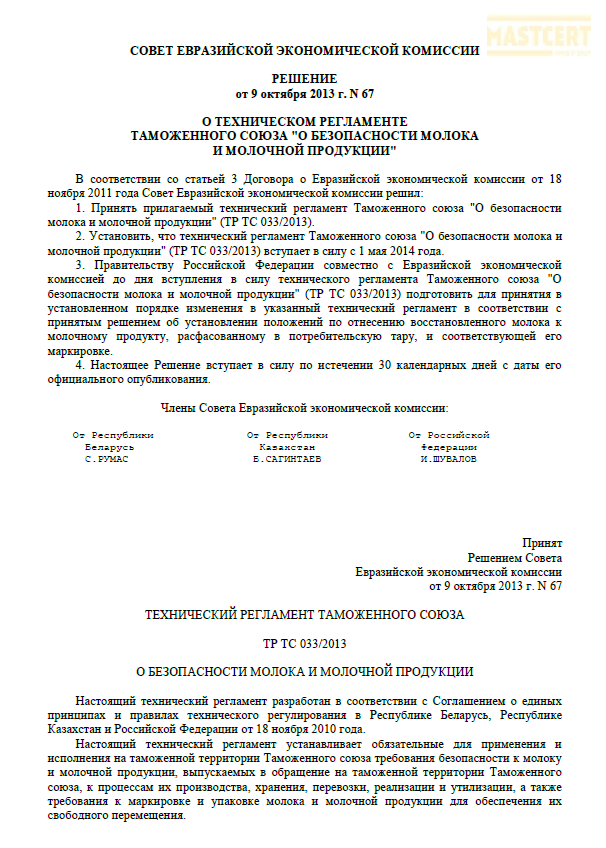 Download "TR CU 033/2013" for free
Read the full English version of TR CU 033/2013 "On the safety of milk and dairy products".
Check if your product is subject to certification under this regulation.
If you still have questions you can always rely on MASTCERT.
Download
In accordance with TR TS 033/2013, confirmation of compliance of milk (dairy products) with the requirements of the technical regulation is carried out in the following forms:
declaration of conformity;
state registration of baby food products;
state registration of a new type of dairy products;
veterinary and sanitary examination of raw milk, raw skimmed milk and raw cream, which will be used for further processing.
Important! Upon successful completion of state registration and veterinary and sanitary examination, a Declaration of Conformity is not required.
The Declaration of Conformity can be issued according to one of the following schemes: 1D, 2D, 3D, 4D, 6D. Validity period of the Declaration is not more than 5 years.
Documents required for issuing a Declaration of Conformity:
test report;
copies of the registration documents of the applicant;
certificates of assessment of the quality management system (if any) (except for scheme 6D);
contract (supply agreement) or shipping documentation (schemes 2D and 4D).
For registration of all permits for your product, please contact our experts.
HAVE A PROJECT?
By clicking Submit, you agree to Fresh Consulting's Privacy Policy.
COMAPANIES WHICH TRUST MASTCERT