TR CU 008/2011
On safety of toys
NEED HELP WITH CERTIFICATION?
TR CU 008/2011
TR CU 008/2011 Technical regulation of the Customs Union "On safety of toys"
The technical regulation of the Customs Union 008/2011 was issued on November 18, 2010 in accordance with the Agreement on common principles and rules of technical regulation in the countries of the Customs Union.
TR CU 008 is designed to protect the life and health of children and the people who look after them.
In accordance with the requirements of TR CU 008, products that fall within the scope of this regulation are subject to mandatory certification and testing. Certification of toys occurs according to one of three schemes 1C, 2C, 3C.
List of documents for certification of toys:
Technical conditions and standards;
Image of the toy (photo, label);
Technical description, instructions for use;
Information about the materials that were used in the manufacture;
ISO 9001 – for scheme 2C;
Contract or invoice for delivery – 3C scheme;
Agreement (power of attorney) for the performance of the manufacturer's functions (for imported products).

Contact MASCERT and we will help you obtain a certificate with a minimum package of documents – Send a request.
Marking requirements for toys for children
The marking of toys should contain the following information:
Name of toy;
Information about the country of manufacture;
Trademark;
Minimum age of the child who can play this toy;
Basic materials;
If applicable, information on how to care for the toy;
Date of manufacture;
Service life or shelf life;
If applicable, storage conditions.
List of toys subject to certification under TR CU 008/2011:
Modeling pastes, including plasticine for children;
Tricycles, scooters, pedal cars and similar wheeled toys;
Carriages for dolls;
Dolls;
Electric trains, including tracks, signals and other accessories; sets of elements for assembling models in a reduced size ("to scale");
Other building kits and toys for construction;
Toys depicting animals or other creatures other than humans;
Toy musical instruments and devices;
Puzzles;
Other toys in sets or kits;
Balls for children;
Electronic games;
Products for holidays, carnivals or other products for amusement, including objects for displaying tricks and jokes (with the exception of products made of glass for New Year and Christmas holidays);
Pools for children.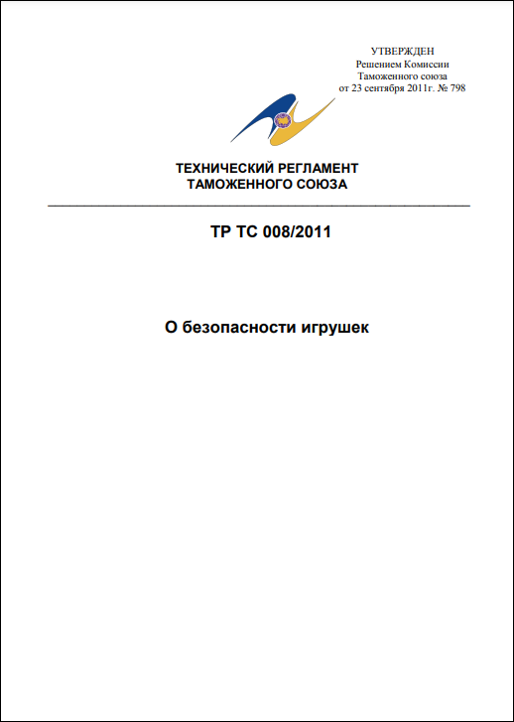 Download "TR CU 008/2011" for free
Read the full English version of TR CU 008/2011 regulation "On safety of toys".
Check if your product is subject to certification under this regulation.
If you still have questions you can always rely on MASTCERT.
Download
A more complete list of toys subject to certification can be found in the Appendix to TR CU 008/2011 "On the safety of toys".
It is also worth noting that not all goods and toys are subject to certification in the framework of TR CU 008/2011.
List of goods that are not subject to certification within the framework of TR CU 008/2011 "On safety of toys":
Christmas-tree decorations, artificial Christmas trees and accessories, electric garlands;
Large-scale models for collecting, not intended for children under the age of 14 years;
Equipment for children's playgrounds;
Sports equipment, including underwater;
Folklore and decorative dolls not intended for children under the age of 14 years;
"Professional" toys installed in public for general use;
Slot machines;
Puzzles containing over 500 pieces;
Airguns;
Catapults and throwing devices;
Throwing shells with metal tips;
Power transformers for toys, battery chargers, including those supplied with the toy;
Products containing heating elements and intended for use in the educational process under the supervision of adults;
Vehicles designed for children under the age of 14 with internal combustion engines;
Toy cars with steam engines.
See the Appendix to the Regulation for a complete list of goods that are not subject to the TR CU 008 regulation.
Toys are objects that children have direct contact with from a very young age. Therefore, their quality and safety must be strictly checked. This matter is regulated by the technical regulation (TR) CU 008/2011. The document sets up norms and standards for all possible types of gaming products – toys, stuffed with a fluffy material, play sets, creative kits, construction toys, optical toys and much more.
In accordance with the TR CU 008/2011 standards, toys must be designed and manufactured in such a way that they do not put the health and life of the child at risk. The materials from which the products are made, organoleptic indicators, physical and mechanical properties, susceptibility to sunburn, chemical properties, toxicological and hygienic indicators, radiation safety, packaging are subject to inspection and analysis according to the regulations.
How to get a certification?
Obtaining a safety certificate for toys is possible on the basis of tests according to schemes 1c, 2c or 3c for batches. The accredited body takes samples, conducts tests in laboratory conditions, and according to the scheme 1c analyzes the state of production, compares the indicators with acceptable ones and takes a decision on issuing an EAC document. Toys that have successfully passed the test for compliance with the technical regulations are marked with a single sign. If you want to know the details or start the certification process without delay, please contact MASTCERT.
HAVE A PROJECT?
By clicking Submit, you agree to Fresh Consulting's Privacy Policy.
COMPANIES WHICH TRUST MASTCERT