TR CU 025/2012
On the safety of furniture products
NEED HELP WITH CERTIFICATION?
TR CU 025/2012
Technical Regulations of the Customs Union 025/2012 "On the safety of furniture products"
TR CU 025/2012 applies to furniture products put into circulation on the territory of the Customs Union – products, sets, furniture sets, including furniture products made according to individual orders.
LIST OF PRODUCTS TO WHICH THE REQUIREMENTS OF TR ST 025/2012 APPLY:
• Furniture for educational institutions
• Furniture for trade, catering and consumer services
• Furniture for hotels
• Tables and chairs
• Beds
• Cabinets, cabinets, etc.
• Children's furniture
A complete list of products that are subject to the requirements of TR CU 025/2012 can be found in Appendix 1 to Technical Regulation 025/2012 "On the safety of furniture products".
TR CU 025/2012 DOES NOT APPLY TO:
• Medical furniture
• Furniture intended for use in underground, ground and air transport
• Antique furniture
• Used and refurbished furniture
• Samples of furniture intended for display at exhibitions and for advertising.
Furniture products cannot be released into circulation on the unified territory of the Customs Union, if the procedure for assessing (confirming) its compliance with the requirements of all technical regulations that apply to it has not been passed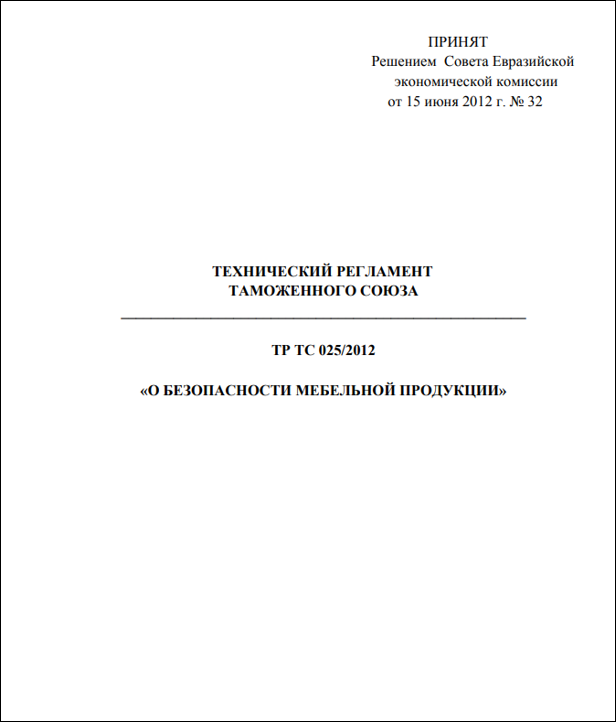 Download "TR CU 025/2012" for free
Read the full English version of TR CU 025/2012 regulation "On the safety of furniture products".
Check if your product is subject to certification under this regulation.
If you still have questions you can always rely on MASTCERT.
Download
Furniture products must provide (Article 5 of CU TR 025/2012):
• Mechanical safety
• Chemical and sanitary-hygienic safety
• Fire safety
• Electrical safety
Furniture for household and public use (list in Appendix 1 to TR CU 025/2012) is subject to declaration of conformity. Except for children's furniture, furniture for educational and preschool institutions, which will be subject to mandatory certification. Declaration schemes are presented in Appendix 5, certification schemes – in Appendix 4 to TR CU 025/2012.
LIST OF DOCUMENTS REQUIRED FOR PASSING THE QUALITY CONFIRMATION PROCEDURE IN ACCORDANCE WITH TR CU 025/2012:
• Application
• Technical description and composition of products
• product name
• Manufacturer and importer information
• Warranty period, service life
The company "MASTSERT" will help you in preparing all the necessary documents and passing the confirmation of conformity to quality.
The import and operation of furniture products in the territory of the Customs Union for the safety of human health and life, the environment is accompanied by checks to confirm compliance with the technical regulation (TR) CU 025/2012. The document regulates the release into circulation of medical products, antique and used furniture, for display at exhibitions and use for advertising. The mechanical, hygienic, fire and electrical safety of products is tested within the framework of (TR) CU 025/2012 regulation. For example, the strength, impact resistance, deformability, softness, transformation methods are checked within the framework of the analysis of mechanical properties. The risks of injury during the operation of furniture, requirements for ergonomics and anthropometry are also analyzed.
How and where to get a safety of furniture products certificate?
Only an accredited body, which is our company, can conduct tests and issue a legally binding document. We have extensive experience and the necessary material and technical base for issuing the EAC certification. As a client of our organization, You will be devoid of any hassle and can expect the final decision on the tests within the agreed time-limits.
HAVE A PROJECT?
By clicking Submit, you agree to Fresh Consulting's Privacy Policy.
COMAPANIES WHICH TRUST MASTCERT