EAEU TR 050/2021
On the safety of products intended for civil defense and protection from natural and man-made emergencies
NEED HELP WITH CERTIFICATION?
This technical regulation establishes the safety requirements for products intended for civil defense and protection of the population from emergency situations. The technical regulations apply throughout the territory of the countries of the Eurasian Economic Union.
EAEU TR 050/2021 applies to the following types of goods intended for civil defense:
Technical means of protective structures:
– protective and hermetic devices and products for protective structures of civil defense (protective and hermetic doors and gates, anti-explosion protective sections, expansion chambers, etc.);
– ventilation units, filters and installations for the protection of civil defense structures (fans with electric and electronic drives, cell filters, prefilters , etc.)
Technical means of control, communication and warning:
– tech. communication controls (automated workplace of the guard on duty , auxiliary equipment, etc.);
– tech. means of warning the population about dangers arising during military conflicts or as a result of these conflicts, as well as emergencies (warning workstation, equipment for launching and monitoring terminal warning devices, etc.)
Emergency rescue equipment:
– emergency rescue vehicles;
– rescue rotary equipment;
– rescue tools;
– means of searching for victims;
– life support equipment for rescuers and victims, etc.
Technical means for monitoring emergency situations:
– software and hardware monitoring systems;
– means of data transmission;
– sensors and means for monitoring changes in the state of environmental parameters or its individual components.
Technical regulation 050/2021 does not apply to:
1) Products designed for recognition and detection of bacteriological objects and radioactive materials.
2) Products designed for recognition and detection of toxic chemicals used in chemicals. weapons.
In parts IV – VI of this technical regulation (EAEU TR 050/2021) describe the requirements for the manufacture, quality and design of equipment (products) intended for civil defense and combating the consequences of emergency situations.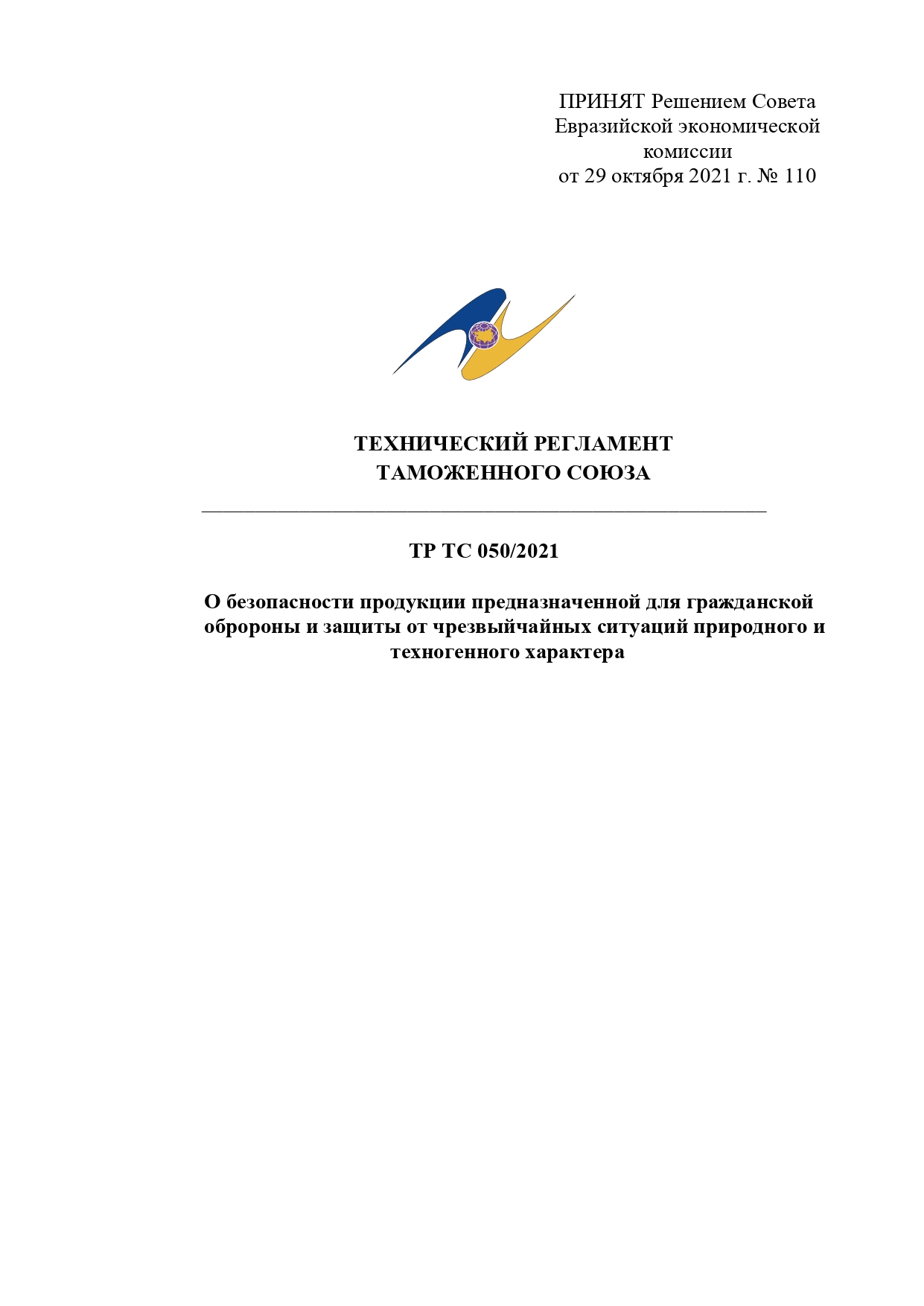 Download "EAEU TR 050/2021" for free
Read the full English version of EAEU TR 050/2021 "On the safety of products intended for civil defense and protection from natural and man-made emergencies".
Check if your product is subject to certification under this regulation.
If you still have questions you can always rely on MASTCERT.
Download
Products subject to assessment of compliance with the requirements of EAEU TR 050/2021 must undergo mandatory certification according to one of the following schemes:
for serial production – 1C and 2C;
for a batch of devices – 3C;
for a single device – 4C.
To obtain certification you must provide:
application;
a copy of technical and design documentation;
list of standards (provided that the requirements of these technical regulations can be fulfilled in separate sections);
description of the results of risk assessment and technical solutions adopted;
a copy of the management system certificate;
copy of test reports;
a copy of the contract with the manufacturer (for the 1C scheme);
a copy of the supply agreement (for schemes 3C and 4C);
information about the applicant's account number or registration;
other documents at the applicant's choice.
HAVE A PROJECT?
By clicking Submit, you agree to Fresh Consulting's Privacy Policy.
COMPANIES WHICH TRUST MASTCERT