TR CU 010/2011
On the safety of machinery and equipment
NEED HELP WITH CERTIFICATION?
TR CU 010/2011
MASTCERT has competence to carry out work to confirm the compliance of products with respect to the requirements of the Technical Regulation of the Customs Union 010/2011.
ТR CU 010/2011 "On the safety of machinery and equipment" is designed to establish a unified mandatory set of requirements for the single customs territory of the Customs Union for the application and execution of machinery and (or) equipment used in the Development (design), Manufacture, Installation, Commissioning, Operation, Storage, Transportation, Sales, and Disposal industries, ensuring the free movement of such equipment in the territory of the Customs Union.
FOR WHAT IS THE REGISTRATION OF TR CU 010/2011 USED?
-for the smooth import of machinery and equipment into the territory of the CU -for the sale of machinery and equipment within the territory of the CU
Confirmation of conformity is carried out in the form of certification and/or declaration. The certificate for serial production is issued for a period of 1 to 5 years; for a single delivery, it is without a time limit. The declaration is also registered for a period of 1 to 5 years.
Also, the effect of this technical regulation applies to machines and (or) equipment falling onto the list of declarations, and applied at hazardous production facilities (EIO – Dangerous Industrial Object) as well.
THE DIFFERENCE BETWEEN THE TECHNICAL REGULATIONS OF TR CU 004, 010, & 020
| | | | |
| --- | --- | --- | --- |
| Products | TR CU 004/2011 | TR CU 010/2011 | TR CU 020/2011 |
| Spare parts and accessories | + | – | – |
| Explosion-proof equipment | – | + | + |
| Equipment operating from hydraulic, pneumatic drive | – | + | – |
| Road and lifting machines | – | + | + |
| Mills, cutters, screwdrivers, grinding wheels, bicycles | – | + | – |
| Equipment operating from a voltage of over 1000V | – | + | + |
| Tools (manual, electrical, battery) | + | + | + |
| Control cabinets | + | – | + |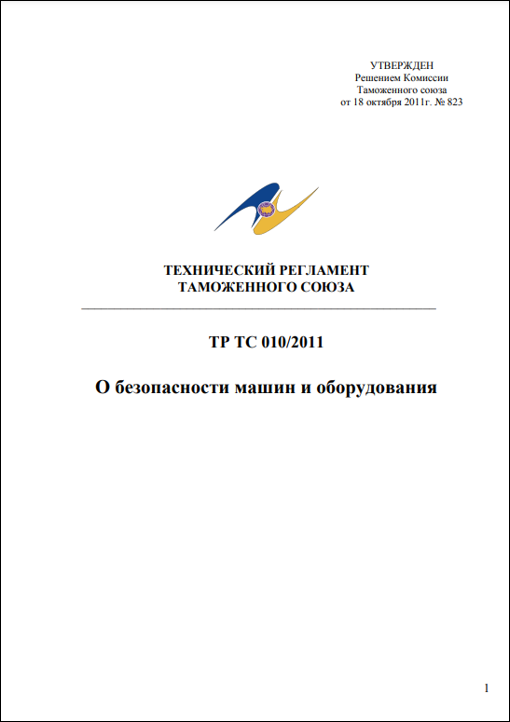 Download "TR CU 010/2011" for free
Read the full English version of TR CU 010/2011 regulation "On the safety of machinery and equipment"
Check if your product is subject to certification under this regulation.
If you still have questions you can always rely on MASTCERT.
Download
THE LIST OF PRODUCTS COVERED BY TR CU 010/2011 "ON THE SAFETY OF MACHINERY AND EQUIPMENT":
Household wood working equipment;
All-terrain vehicles, snowmobiles and their trailers;
Garage equipment for motor vehicles and trailers;
Agricultural machines;
Small-size mechanized machines for garden and forestry, including forestry electric machines;
Machines for livestock, poultry farming and feed-processing;
Mechanized construction and assembly instruments;
Engineering equipment for timber logging, timer deposits and timber rafting:

petrol saws;
electric chain saws.

Technological equipment for commerce, catering and public kitchens.
Equipment for stripping and cleaning works and lining of mine shafts:

mining combines;
mechanized complexes;
mechanised supports for shafts;
pneumatic instruments.

Sinking equipment for mines:

sinking combines for coal and rock;
metal lining for excavation.

Equipment for shaft running and mine transport:

drag mining conveyors;
belt mining conveyors;
winding machines for mines and hoists for ore mines;

Equipment for drilling boreholes and wells, equipment for charging and tamping blast holes:

pneumatic hammers (drilling hammers, drill);
pneumatic hammers;
drilling machines used in mining industry;
drilling installations;

Equipment for ventilation and dust retaining:

mining fans;
dust retaining and dust extraction devices;
oxygen compressors;

Load lifting machines, load lifting cranes
THE LIST OF OBJECTS SUBJECT TO CONFIRMATION OF COMPLIANCE WITH THE REQUIREMENTS OF TR CU 010/2011 IN THE FORM OF DECLARATION:
Turbines and gas-turbine installations;
Draught equipment;
Crushers;
Diesel-generators;
Devices for lifting operations;
Conveyors;
Rope and chain pulley lifts;
Industrial floor trackless transport;
Chemical oil and gas processing equipment;
Polymer processing equipment;
Pumping equipment (pumps, pumping units and installations);
Cryogenic equipment, compressors, refrigeration, gas-treatment and autogene equipment:

air and rare gases installations;
equipment for preparation and purification of gases and liquids,heat – and cryogenic mass transfer systems and installations;
compressors (air and gas);
refrigeration installations.

Equipment for flame treatment of metals and plating products;
Gas-treatment and dust-retaining equipment;
Pulp-and paper equipment;
Paper-making equipment;
Oilfield equipment, drilling geological equipment;
Manufacturing equipment and equipment for coating engineering products;
Equipment for liquid ammonia;
Equipment for preparation and purification of drinking water;
Metal-working machines;
Press-forging machines;
Wood-working equipment (except household wood-working machines);
Manufacturing equipment for foundry;
Equipment for welding and gas thermal spraying;
Industrial tractors;
Forklifts;
Bicycles (except for children);
Machines for excavation, land reclamation, development and maintenance of quarries;
30 Road making machines and equipment for mortar preparation;
Construction equipment and machines;
Equipment for construction materials production;
Forestry machinery, forestry timer deposits and timber rafting(except petrol chains and electric saws);
Engineering equipment for peat industry;
Industrial laundry equipment;
Equipment for chemical cleaning and dyeing of cloths and household articles;
Machines and equipment for municipal utilities;
Industrials fans;
Industrial air conditioners;
Air heaters and air coolers;
Manufacturing equipment for light industry;
Manufacturing equipment for textile industry;
Engineering equipment for production of chemical fibres, glass and asbestos fibres;
Processing equipment for food, meat, dairy and fish industry
Manufacturing equipment for flour-and-cereal industry, feed mill and grain-elevator industry;
Manufacturing equipment for retail, catering and public kitchens;
Printing equipment;
Manufacturing equipment for glass, porcelain, earthenware and cable industry;
Heating boilers operating on liquid and solid fuel;
Fluid gas and combined burners (except for blocks), integrated in equipment to be used in technological processes at industrial enterprises;
Water heaters and heating units operating on liquid and solid fuels;
Cutters:

multi-faceted carbide cutters;
high speed steel cut-off cutters and metal slitting saws;
carbide cutters.

Incisors:

cutters with carbide plates;
cutters with multi-faceted carbide plates.

Circular saws with carbide inserts for wood processing;
Bench and mounting tool with insulating handles for working in electrical units with voltage up to 1000 V;
Shell-milling cutters:

wood processing relieved milling cutter;
wood processing mills with blades of steel or tungsten carbide;
cylindrical interlocking side milling cutters.

Tools for natural and synthetic diamonds:

diamond grinding wheels;
diamond cutting wheels.

Tools of super hard synthetic materials based on boron nitride (CBN tools);
Abrasive tools, abrasive materials:

grinding wheels, including hand tools;
cut-off wheels;

Abrasive tools, abrasive materials:

abrasive disks including for hand machines
cutting wheels;
polishing wheels;
petalled grinding wheels;
grinding endless belts;
fibre grinding wheels.
Important: The Certificate of Conformity of the Technical Regulations of the Customs Union can be drawn up both for goods produced by the countries of the Customs Union, and for goods of foreign manufacturers. The requirements for foreign products and products of the Customs Union are the same, and the certification schemes also coincide.
ANSWERS TO FREQUENTLY ASKED QUESTIONS ON TR CU 010/2011
Are used equipment subject to confirmation of conformity? – No, this is not allowed.
Can I issue a certificate instead of a declaration? – Yes. According to paragraph 5 of Article 8, according to the decision of the Applicant, certification can be carried out instead of declaring compliance.
Does the mounting jack used in service workshops need to be certified? – Yes, it Is subject to certification. And for a construction jack, it is necessary to make a declaration.
Are Drilling rigs subject to certification? – Yes, and for the drilling equipment (Drilling pipes, casing pipes, drilling towers, tree fittings, etc.), a Declaration is required.
Technical Regulations (TR) CU 010/2011 is a document that regulates uniform standards for the manufacture, assembly, start-up and adjustment, operation, storage, disposal of machines and equipment that is put into circulation in the territory of the countries of the Customs Union. The document covers a large list of machines such as household woodworking machines, snowmobiles and trailers for them, garage equipment for vehicles and trailers, agricultural machines, etc..
Machinery certification
(TR) CU 010/2011 regulation primarily prescribes the rules of sales and safety. Safety indicators are calculated through research and development, calculations and tests. During certification an expert checks the appropriate choice of materials and substances, the identification of criteria for limit states, all potential hazards and risks. There are requirements to the manuals where information about the design, the principle of operation, instructions for installation, operation, and a list of critical failures must be indicated.
Conformity assessment is carried out by an accredited body in a testing laboratory, and information on certification must be indicated in the passport of the machine.
We will help in obtaining a declaration of conformity
Our company has been dealing with the EAC certification for more than 9 years and has the status of an accredited body. Laboratory conditions and technical base allow us to carry out any complexity testing of products for various purposes. We will be happy to advise You in more detail on the stages of the process and verification schemes.
HAVE A PROJECT?
By clicking Submit, you agree to Fresh Consulting's Privacy Policy.
COMAPANIES WHICH TRUST MASTCERT