TR CU 007/2011
On the safety of products for children and adolescents
NEED HELP WITH CERTIFICATION?
TR CU 007/2011
Technical regulation 007/2011 was developed in accordance with the Agreement on common principles and rules of technical regulation in the Republic of Belarus, the Republic of Kazakhstan and the Russian Federation dated November 18, 2011.
TR CU 007 applies to products intended for children and adolescents, which are released into circulation on the territory of the Customs Union.
List of products subject to Technical Regulation 007:
• Products for childcare (pacifiers, dishes, cutlery, haberdashery, brushes, etc.)
• Clothing, textile materials, fur and leather products, etc
• Footwear
• Bicycles and baby carriages
• School supplies and books
A more detailed list of products that are subject to certification (declaration) in accordance with TR CU 007/2011 can be found in Appendix No. 1 to this regulation.
If you do not know if your product is included in the list of goods subject to declaration, write to us and we will help you in this matter
The list of goods that are not covered by the Technical Regulations:
• Products designed for medical use
• Baby food products
• Perfumery and cosmetic products
• Sports equipment and products
• Textbooks, teaching aids and electronic educational publications
• Toys and board games
• Furniture
• Products that are custom-made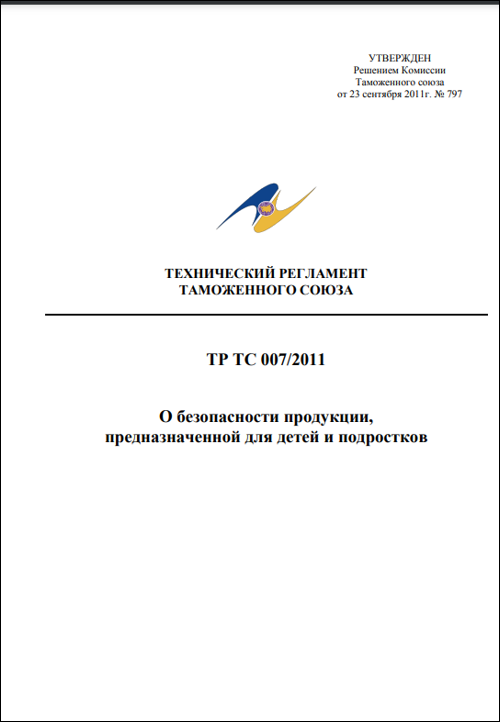 Download "TR CU 007/2011" for free
Read the full English version of TR CU 007/2011 regulation "On the safety of products for children and adolescents".
Check if your product is subject to certification under this regulation.
If you still have questions you can always rely on MASTCERT.
Download
According to TR CU 007/2011, product labeling must contain the following information:
• Information about the manufacturer and country of origin
• Product name
• Type (application) of products
• Manufacturing date
• EAC sign
• Expiration date (if any)
• Service life (if any)
• Trademark (if any)
All information on the marking is applied in Russian, if there is an appropriate rule in the legislation of the state.
For imported products, it is allowed to put the name of the country of the manufacturer and the legal address of the manufacturer in the Latin characters.
In accordance with Technical Regulations 007/2011, products are subject to mandatory declaration.
List of documents required to obtain the Declaration (Certificate):
application;
technical documentation, manuals, passports, etc.;
copies of labels (packaging) or their layouts;
act of sampling;
test reports;
extract from the Unified State Register of Legal Entities or EGRIP (for products manufactured on the territory of the Customs Union);
copies of documents on the import of samples into the territory of the Customs Union.
Products intended for children are subject to stricter quality and safety controls. This applies to absolutely all types of possible products that will be used by kids – from food, hygiene products to shoes and clothes. Products of this type are subject to certification according to the standards of the technical regulation (TR) CU 007/2011. This document establishes requirements to the safety of childcare products, clothing, shoes, other knitwear, strollers, bicycles, school supplies. Products are evaluated for chemical, biological, thermal, mechanical safety, which is justified by the purpose of protecting the health and life of a child from possible harmful effects.
How is the safety of products intended for kids and adolescents confirmed?
According to the regulation (TR) CU 007/2011, products for kids are checked for harmful substances, sanitary and hygienic indicators, mechanical strength, hygroscopicity, air permeability and other aspects, depending on the type of product. Our experts select suitable certification schemes, take samples and carry out appropriate checks in the laboratory. Based on the results, a decision is made to issue an EAC certification. You can trust an accredited body and count on the promptness of all work.
HAVE A PROJECT?
By clicking Submit, you agree to Fresh Consulting's Privacy Policy.
COMAPANIES WHICH TRUST MASTCERT