Certification in Ukraine – The UkrSEPRO
NEED HELP WITH CERTIFICATION?
Certification in Ukraine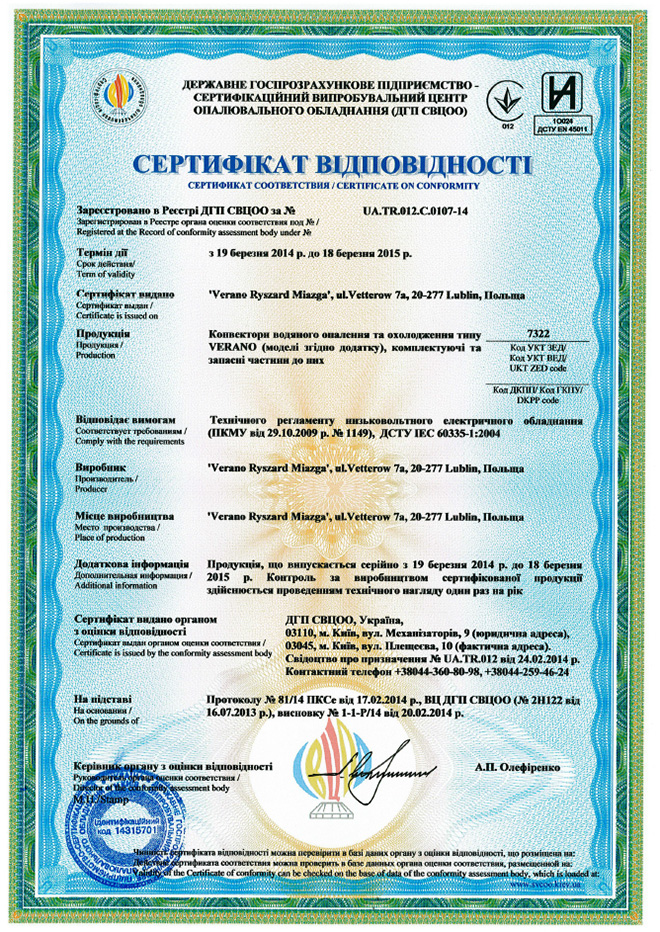 Certification in Ukraine is a procedure by which the conformity of products manufactured domestically or imported from abroad with the requirements in force in Ukraine is documented.
In Ukraine, the state certification system is applied called UkrSEPRO. All certification services related to this certification system. UkrSEPRO is able to issue declarations, mandatory and voluntary certificates.
The UkrSEPRO system has developed a list of goods that are subject to mandatory certification. The list contains HS codes. Using this list, the manufacturer can independently determine to which code his product belongs and whether it is on the list.
If the product is in the list of goods that are subject to mandatory certification, then its import across the border is impossible without the availability of the UkrSEPRO Certificate. To obtain a Certificate of Conformity, you must go through a number of procedures.
Now it's worth noting the features of the so-called voluntary certification in Ukraine. As the name implies, this is not a mandatory certificate and its absence will not become an obstacle to the import of your goods into Ukraine. But with a voluntary certificate, an additional competitive advantage appears.
A voluntary certificate can be issued for any type of product that is not among the list for mandatory certification. In this case, the manufacturer himself has the right to choose according to what standards tests of his products will be conducted.
In addition to the mandatory and voluntary certificate, declarations of conformity are also used.
The declaration of conformity confirms that the goods imported or produced on the territory of Ukraine meet all the stated requirements.
As a result of the declaration, a document is issued, which is registered by an accredited body. The declaration of conformity has its own unique number.
Only a resident of Ukraine can apply for certification and declaration. But if the manufacturer is in another country, then his interests in Ukraine can be represented by a resident of Ukraine in the presence of a power of attorney from the manufacturer and a representative contract.
Certification Schemes.
There are 2 types of certification: for serial production (up to 5 years) and for batch (up to 1 year).
When certifying a batch of products (or a single product), products are imported according to a certain invoice. The certificate shall indicate the quantity of products, invoice number, HS code, name and address of the manufacturer and applicant. This type of certificate is issued for a maximum of one year.
In the case of certification for mass production, UkrSPERO offers various certification schemes.
Product certification based on the analysis of documents (without analysis of production). Validity of the certificate is 1 year.
Certification based on production inspection. The certificate is issued for a maximum of 2 years.
Product certification based on production attestation. In this case, the certificate is valid for a maximum of 3 years.
Product certification with an assessment of the quality of production management. In this case, the certificate can be valid for 5 years.
Documents required for issuing a certificate under the UkrSEPRO system:
Product List
Technical description
Photo, catalog
Manual
Quality certificates from the manufacturer
ISO 9001 (optional)
Power of attorney from the manufacturer (if necessary)
Supply contract and main contract
Manufacturer Information
Hygienic conclusion (if necessary)
Important! Ukraine has signed a number of bilateral agreements, according to which the offsetting of issued certificates was approved.
That is, in Ukraine, certificates issued in the territory of one of the following countries are recognized (and vice versa, partner countries accept certificates issued by Ukrainian authorities):
The Republic of Azerbaijan;
Republic of Belarus;
Republic of Armenia;
The Republic of Kazakhstan;
Republic of Kyrgyzstan;
The Republic of Moldova;
The Russian Federation;
Turkmenistan;
The Republic of Tajikistan;
People's Republic of China;
The Socialist Republic of Vietnam.
This rule applies only to local manufacturers in these countries. A manufacturer of another country (which is not included in this list) is required to obtain a UkrSEPRO certificate.
For more detailed advice on UkrSEPRO certification of your product, please contact MASTCERT by mail or leave a request by filling out the contact form.
It is required to undergo a certification procedure for the sale of local goods or for the import of products into the territory of Ukraine. As a result, we receive documentary confirmation of the conformity of the goods with the current legislative norms of the country. Ukraine has a unified state certification system UkrSEPRO, which issues compulsory and voluntary certificates, as well as declarations of conformity. We would like to note one more important point concerning Ukraine. Ukraine has signed a bilateral agreement with a list of certain countries (China, Belarus, Kazakhstan, and others), according to which certificates issued in these states are recognized as valid on the territory of Ukraine. If your country is not included in this list, then you need to get certified according to the UkrSEPRO system.
How is the inspection product procedure of standard conformity carried out?
You can get two types of certificates to import products into Ukraine – compulsory and voluntary. There is a specific list of products that are subject to the first, it is convenient for entrepreneurs to search for their product by a special code. Depending on the category of goods, different certification schemes are applied for mass production and batch. This may be an inspection on the documents, with an assessment of the production and the quality of its management. Based on the tests, you will receive a certificate, the UkrSEPRO mark and legal grounds for export.
If your product is not subject to compulsory certification, then you can import it into the country without any problems. But obtaining a voluntary certificate will have a positive impact on the competitiveness of your product.
The declaration of conformity is a confirmation that the goods correspond to the declared properties and characteristics.
Agency for fast certification
The norms of Ukrainian certification of products are not more stringent than in other countries, but they have their own nuances and peculiarities. Therefore, it is better to delegate tasks to professionals in order to avoid errors in documents, inaccuracies with the choice of certification schemes and not to slow down an already long process even more. Based on extensive experience and proven work tactics, MASTCERT experts will be able to quickly resolve the issue and provide the result within the agreed time frame.
HAVE A PROJECT?
By clicking Submit, you agree to Fresh Consulting's Privacy Policy.
COMPANIES WHICH TRUST MASTCERT