Certification in China – CCC
NEED HELP WITH CERTIFICATION?
Certification in China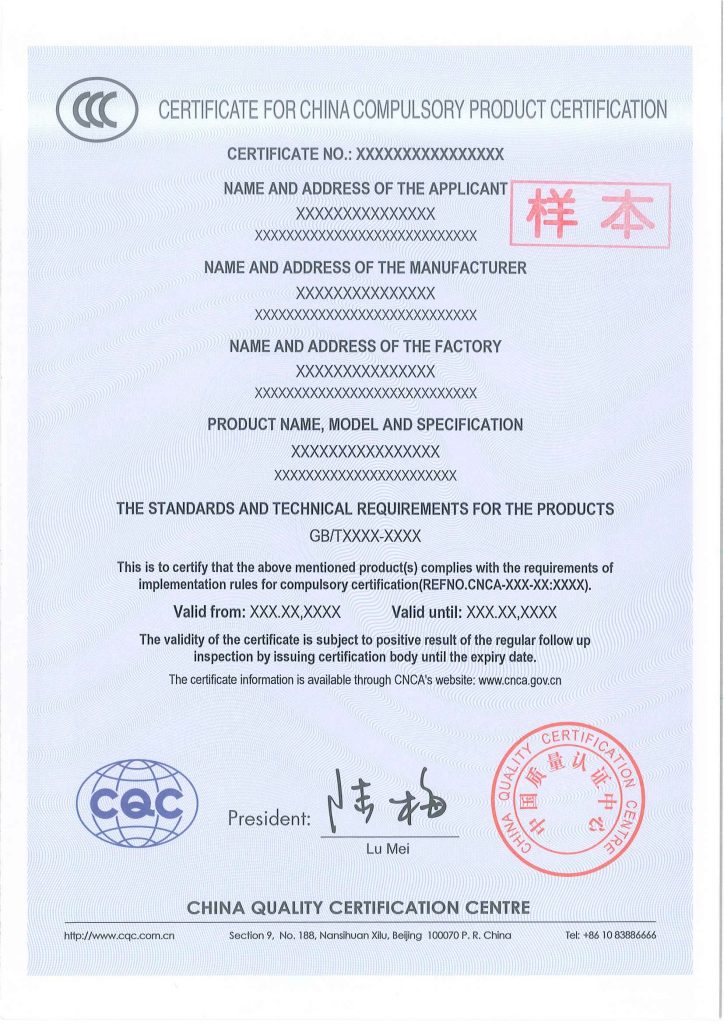 CC is a mandatory certification system in China, which has been operating since 2001.
In China, the China Quality Center (CQC) is responsible for compulsory certification.
The Chinese certification system has much in common with the certification system in European or American countries, but it has distinctive features. The main difference is the time period for obtaining a certificate. The certification procedure can last from four months to one year. The fact is that Chinese customs services and certification bodies are very responsible about what goods are allowed to enter their territory, therefore they strictly adhere to the rules for processing documents, labels and conducting tests in testing laboratories
The entire certification system is built on an industry-wide basis. Also, China has an international ISO quality system.
In China, the CCC (3C) certificate is an official document that confirms the compliance of certain types of products with current quality and safety standards.
CCC does not apply to all types of products. This certification system does not include food groups. Also, for certain types of product groups, special conditions and certification requirements are provided.
Groups of goods that are subject to mandatory certification:
medical equipment;
electrical equipment, including low voltage;
Kids toys;
individual home decor items;
Appliances;
motor vehicles;
components for transport;
latex products;
safety products;
telecommunication equipment;
others.
The full list is very extensive. It is constantly updated with dozens of new categories. Therefore, when exporting goods to China, it is very important to carefully study the group of goods to which the exported product belongs. This is an important stage, since success in issuing a certificate and importing goods into the territory of the Middle Kingdom will depend on this.
Four types of certificates (and corresponding labels) are distinguished for imported products:
on safety (yellow color);
attitude to human health (blue color);
product quality (red color);
to save energy (white color).
Certification of products first begins with safety checks, and then only with quality.
Testing of goods is a mandatory procedure for obtaining a certificate and marking CCC.
Stages of the certificate:
Object identification.
Choice of requirements.
Testing (laboratory tests).
Production audit.
Obtaining a certificate.
The maximum certificate validity period is five years. During the entire period of validity of the certificate, it is necessary to conduct re-certification, which is an annual audit of production. This is necessary to confirm that the quality of the production conditions, materials, products meets the requirements of the CCC.

For a more detailed consultation, please contact our company and fill out the feedback form.
If you plan to expand the geography of your goods exporting to China, then first you need to familiarize yourself with the rules for product importing into the territory of this country. In China, the compulsory certification CCC has been in force since 2001, for which a body called the China Quality Center is responsible. The procedure is similar to the certification procedure in European countries or the USA, but also it has its own characteristics. It should be noted that the Chinese very carefully check what goods are transported through their border, so the CCC certification process can be quite lengthy – from 4 months to a year. And these are the terms, considering the initially correctly chosen standards and executed documents. Therefore, if you want to avoid slowing down the process even more, it is better to work with professionals right away and be sure that everything is going according to plan.
Study information on Chinese certification on the site
The inspection of goods imported into China is carried out according to the industry principle. In general, 3C certification is mandatory for all types of products, with the exception of food products. There are special requirements and assessment standards for food products. The list of all categories of goods that must pass a mandatory check for CCC certification is quite large. It includes household appliances, children's toys, medical equipment, vehicle components and much more. Every year, this list is expanded and supplemented with new categories. At the beginning of the process of compulsory certification for the import of goods into China, it is important to correctly determine the group of your products. Further conditions for its inspection and the required marking depend on this. An error at this stage will negate all the work, after which you will need to start certification again.
There are 4 groups of certificates and marking of imported goods in China:
Safety (indicated in yellow);
Attitude towards human health (blue indication);
Quality (red);
Energy saving (white).
Obtaining a certificate of conformity with Chinese standards covers several stages. It all starts with the identification of the product, on the basis of which the standards relevant to it are determined. Any inspection is accompanied by the laboratory tests that give an accurate idea of the properties of the product, its quality. In parallel, specialists conduct an audit of production, they assess the compliance of production conditions with the necessary standards. If everything is ok, then a certificate is issued on the basis of expert opinions.
The cost of our services and general terms of cooperation
MASTCERT has more than 9 years of experience and well-established certification schemes for exporting products to different countries. You can get acquainted in detail with our methods of work and prices on the website, as well as contact managers. We have representative offices in China, so the testing process will be easy to organize. We will be happy to help in the quickest resolution of formalities for bringing our products to a new market.
HAVE A PROJECT?
By clicking Submit, you agree to Fresh Consulting's Privacy Policy.
COMAPANIES WHICH TRUST MASTCERT